---
The Best Companion for Every Car Owner!
Make your Driving Pleasurable with our Natural Fragrances.
Our Spinning Car Air Freshener is the Best answer to the Eternal need for Fun, Relaxation, and Joy in the Company of your Loved Ones.

[ Why to Choose Our Spinning Car Air Freshener ]
A MOOD REFRESHER!
With Our Spinning Car Air Freshener Near and Far Family Trips will take on New Light if they are accompanied by this unforgettable Scent and Unique Floating Design and it will Definitely keep everyone Energized and Fresh throughout the Journey!



EXCELLENT SOLAR POWER MECHANISM!
Designed with a Solar-Powered Mechanism, It will effectively diffuse essential oil and help remove the smell and freshen the air. This air freshener floats when Driving in the Daytime with the help of Solar Energy!
UNIQUE FLOATING MECHANISM!
Designed with an Advanced Floating Mechanism, the air freshener automatically floats and rotates when driving in the daytime.
HIGH-QUALITY PREMIUM CAR AIR FRESHENER!
Our car perfume features a unique regulation mechanism with high-quality Cologne fragrance, the solid Nano-aroma core is equivalent to 5 ordinary scented tablets.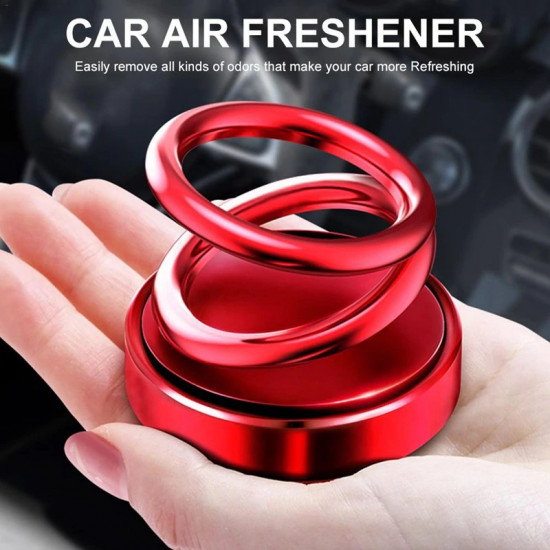 VERY EASY TO INSTALL!

Set with back adhesive, you can easily set it on your dashboard or anywhere. Reusable and washable.
[ SPECIFICATIONS ]
Material: fiber + Zinc alloy
Size: 58 x 52 mm
Scent: Random scent (Classic/ocean/lemon/summer)
[ PACKAGE INCLUDES ]
1 x Floating Car Air Freshener
1 x Scent
Share blog posts, products, or promotions with your customers. Use this text to describe products, share details on availability and style, or as a space to display recent reviews or FAQs.