---
NOW GET Your JUICE READY Within SECONDS
WITHOUT LOSING ANY NUTRIENTS!
SQUEEZING FRUIT NOW MADE VERY EASY! 
This Aluminum Fruit Juicer helps you in making your juice manually very Quickly. It has been designed in a way that you can Enjoy the Originality of the fruit in your juice without losing its Nutrients.
ULTRA-PREMIUM LONG HANDLES
The Handles of this Aluminum Juicer has Made of Premium Quality Steel which will Not Bend or Get Damaged while using the Juicer Because of these Uniquely Designed Handles you Don't Need to Put Extra Strength while Squeezing the Fruit, So It will Help you save your Time and Energy Both.
 HUGE STORAGE BOWL
In this Aluminum Juicer, you can Squeeze an Entire lemon in just One Attempt, you don't need to cut the fruit in half anymore and the Best Part is You Can Get the Juice Out by the Side Outlet Itself.
FEATURES TO LOOK OUT FOR

VERY EASY TO USE
This Juicer is Very Easy To Use and the reason Behind is, Its uniquely Designed V-Shaped juice outlet which makes it easy to pour the juice into a glass or other container. In addition, the smooth handle provides a comfortable and stable grip for easy grip and compression.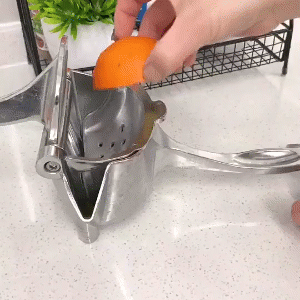 HIGH JUICE QUANTITY
While using this Juicer you get the maximum quantity in just one squeeze compared to other juicers, because it has more storage to store and squeeze the fruit, It Adds convenience to Personal Use, Juice shops, Juice Carts, Bars, Smoothie Stands, and Cafes. 

HIGH QUALITY AND HEALTHY
This Elite Aluminium Fruit juicer is made of High-Quality Stainless Steel and Aluminum Alloy with Chrome-Plating and Polishing Processing. It is corrosion resistant and doesn't react with fruits, nor does it breed bacteria. So you Don't Need to Worry about the Health and Original Flavor of the Juice because the Nutrients in it Will be as it is.

VERY EASY TO CLEAN
This Juicer is Very Easy to Clean, it can be Cleaned with Just One Wash You can Get Rid of the Hard Sticky Fruit Peel Stuck Inside Easily because of its made-up material which doesn't allow any Fruit Particles to stick on it.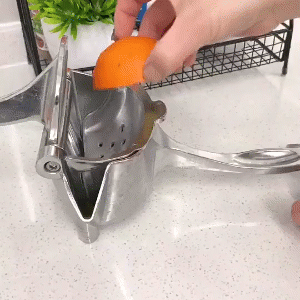 CONSUMER FRIENDLY TOOL
This Aluminium Juicer is an excellent Mother's Day, Father's Day Gifts, Christmas Gift, Thanksgiving Kitchen Accessories, in your Family, Friends, etc and Anyone will Like it and Get 100% Satisfaction Because it is So Easy to Use that Anyone Would Love to Use it.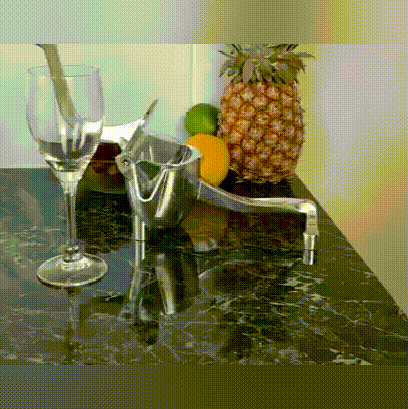 SPECIAL NOTES:
Before or After Using our Lemon Squeezer, Please Wash it in Time and Keep it Dry. 
Don't Use Steel Wool or other Sharp Objects to Scrub. Meanwhile, as far as Possible to Avoid Falling or Impact in the use of the process.

FOR YOUR DAILY DOSE OF VITAMINS!
TASTY AND HEALTHY
GET ONE TODAY!

OUR POINT- HAPPINESS CHECKLIST
FREE Shipping all over INDIA. No hidden Fees.
COD available & Safe prepaid payments.
Real humans on our support helpdesk!
Delivery in 5-7 Days & Tracking number for every order.
The Genuine Quality Guaranteed.
SHIPPING & DELIVERY
All Orders Are Professional, Prepared, And Dispatched Within 1 to 2 Business Days. We Currently Offering Free Shipping. The Typical Delivery Time Frame is Anywhere From 3-8 Business Days. Depending On Your Location, You Might Receive Items Much Earlier.
Tracking Number Will Be Automatically Sent As Soon As The Order is Shipped. Rare Times There Might Be Additional Delays That Are Beyond Our Control Such As Customs Or Postal Delays. Thanks For Understanding!

7 DAY GUARANTEE
We Have An Iron-Clad Risk-Free Guarantee. You Have Up To 7 Days After Receiving Your Product To Contact Us (rarephoenix.info@gmail.com) And Ask For A Full Replacement /Refund If Have Any Kinds Of Damages.


Share blog posts, products, or promotions with your customers. Use this text to describe products, share details on availability and style, or as a space to display recent reviews or FAQs.